Energy Savings Service Agreement
Stay Comfortable & Save Money All year long with proper system maintenance!
Your home's heating, ventilation, and air conditioning (HVAC) system needs routine maintenance and service to keep it running properly. Your furnace and AC are some of the most technically advanced systems in your home and your comfort depends on them. But how many years have you run your furnace or air conditioner without having a professional look at it?
That is where the Blue Mountain Energy Savings Services Agreement (ESSA) comes in. The ESSA is Blue Mountain's response to the demand for quality HVAC service. It is a renewable 12-month maintenance and service program that protects your HVAC investment. A typical system can cost from $7,500 to $20,000. Keeping it running and in good shape is a smart investment in your comfort and helps you conserve energy. The ESSA includes:

  Multi-Point Inspection


  Discounted Service and Repair Rates (varies by plan)


  Two Seasonal Tune-Ups Every Year*


  Certified Technicians


  Preferred Customer Status (varies by plan)


  Lowered Utility Bills


  Extended Equipment Life
*Service visits are typically done March-May for air conditioners and September-November for furnaces.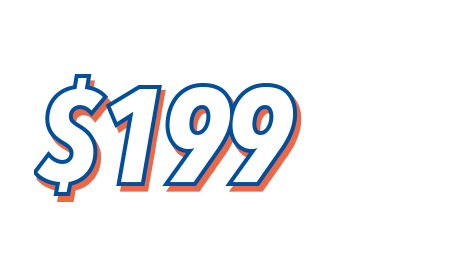 Blue Mountain can help with the Energy Savings Service Agreement
Proper servicing and cleaning of you HVAC system will help it keep your family at your ideal comfort level and avoid expensive repairs. The Multi-Point Inspection is a key feature that allows our technicians to service and inspect your HVAC system to maintain its efficient operation. It includes:
Air Conditioner 17-Point Inspections
Check air filter
Check thermostat for proper operation
Inspect the outdoor coil
Inspect the indoor coil, including metering valve
Inspect refrigerant lines
Inspect for visible refrigerant leaks
Inspect the condensate drain pan
Inspect the condensate drain line & p-trap
Inspect low voltage & line voltage at AC
Inspect the blower assembly
Verify suction & discharge pressure
Inspect unit components for wear (contactor, capacitor, time delay relay)
Verify temperature drop
Verify correct superheat or sub-cooling
Verify condenser fan motor amps
Inspect & verify blower speed
Cycle equipment to verify operation
Furnace 17-Point Inspections
Check air filter
Check thermostat for proper operation
Inspect wiring & control circuit
Inspect the blower assembly
Inspect pressure switch
Inspect Collector box
Visually inspect heat exchanger
Check/adjust fuel & air mixture
Check/adjust inlet & outlet gas pressures
Inspect flue and combustion air systems
Inspect condensate line & p-trap
Inspect gas valve in furnace
Inspect for gas leaks
Verify motor amp draw
Verify supply & return static pressures
Verify correct voltage to furnace
Cycle equipment to verify operation
Benefits
Bronze$199
per year
Silver$249
per year
Gold$349
per year
17-point inspection (2 visits per year)
Clean/dust return air grille(s)
Clean leaves/debris from condenser
Nitro flush condensate lines
Check and change filter both visits (customer supplied)
Pre season scheduling
Service appointment reminder sent via email1
1 year Repair warranty
Diagnostic rate discount (Regularly $130)

$69.95

$59.95

$49.95

Discounted repair rate

10%

15%

20%

Priority service
24 hrs2
Same Day3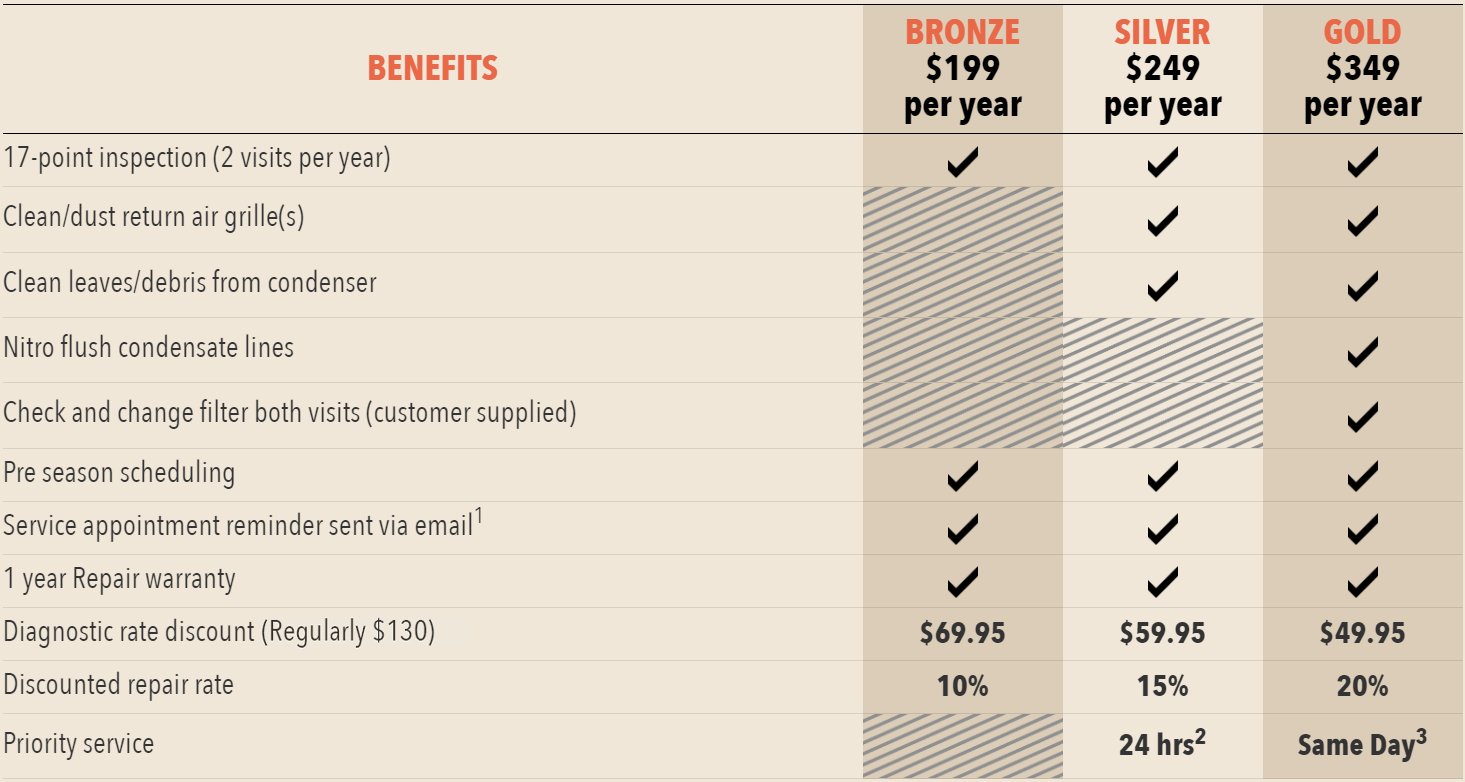 Sign Up Now
Energy Savings Service Agreement
1 When technician is en route to your home from previous appointment, our system will send you an emai
2 24 hours priority service for calls scheduled Monday thru Friday, 8 am – 2 pm, excludes Sundays and holidays
3 Same day service for calls scheduled Monday thru Friday, 8 am – 2 pm, excludes Sundays and holidays